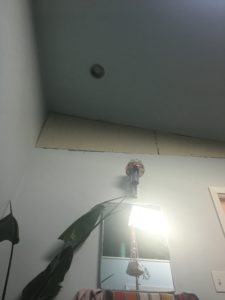 This is my master bath.  The contractor gutted, elevated the ceiling and did new sheetrock, ran electrical etc.  The view from my zen soak tub shows me a gappy unfinished wall, gaps around the medicine cabinet, a crooked light fixture where the round hole which he created for a square base is mostly covered by a cheap plastic circle. The light fixture moves. Not in the photo are unfinished walls, one that curves and child-like tiling.  This passes as quality work at Wilder & Wilder construction.
The photo absolutely will NOT load and I also blame this on the car manufacturer.  They must be working some serious mojo so that my photos won't post. 😉   But I bought an LS600HL and the dashboard leather peeled up so high it blocked vision out the front windshield. Lexus refused to resolve.  I finally just sold off the car for pennies on the dollar. I believe hell will freeze before I cease talking about my bad Lexsucks.  There were other issues too with the vehicle, it was just aging far too fast for what should have been a quality built machine with a 6 figure sticker price.  Not 50k miles in, the water pump failed, as did the brakes and suspension among other things.  This is my experience and I have read a few other sad Lexus stories too and while your Lexus may or may not be behaving itself, I come away forever off the brand due to how my situation was handled.  It seemed nobody cared to change the outcome and I felt I was driving the most beautiful POS ever created that was a driving time bomb of when I might be left stranded and owing thousands to fix again.
Regardless of your personal beliefs, we are spiritual beings who bring intention and spirit behind that into everything we do, all that we touch and also with what we say.  None of us are perfect so if this sounds scary, don't worry.  This life is just a practice.  But our practice is in perfection, in giving and doing our best in the service of others with whatever it is that we do or create, even if what we do now is only temporary, you're going on holiday or retiring next week or starting something new and more in line with your goals etc.
This is the view I see every day I soak in my tub to relax.  Namaste MF comes to mind.  And I have not found anybody that wants to finish this wall for me.  I have thought a lot about work and the spirituality of doing great work, of striving to create happiness with clients, of making it look easy in front of the customer which used to be my personal motto at Sprint as an Implementation Project Manager.  Sure, you are not going to please everybody.  Some folks come with their own tightly packed bag of luggage that you are never going to be enabled to sort through or resolve.  All we can ever do is try.  Try hard.  Looking at this wall I ask you what lasting impression did you leave your last customer with?  Or perhaps it was the checkout person or mailman.  We all brand ourselves by how we typically think, feel and act and by our
personal code of ethics.  Are you a half-finished and poorly done wall? Are you advertising yourself as a flagship when your output speaks otherwise? If so, there's time and need to go and do better.
We like to think in terms of hierarchy, of rank in importance, such as BMW might rank higher than Subaru or CEO higher than Project Manager.  The reality is that the heart is not one iota more important than the foot, the lung no more important than the lymphatic system, the intestines no less important than the brain.  I found it absolutely fascinating to learn the immune system is a completely separate entity that dwells within our bodies.  We are all made up of bacteria and hopefully more good flora than bad (check your diet.)  But all of the body, while bits, parts and pieces, all work harmoniously together for the good of all the entire organism called human, fish, dog etc or problems ensue.
When we observe the body, we understand that all the lifeforms, all the people, the other animals, the plants, all these bits, parts, and pieces, make up the wonderful and diverse and dependent world we live in with nothing being really more important than another.
Imagine nobody wanted the janitor job.  Nobody took out the trash or recycle? How important would that job suddenly feel after a couple of weeks missed trash pickup? Or a month?  Many of us do something we are not 100% sold on.  This may be a stepping stone or foot inside a doorway, the only thing you felt you qualified for or just a temporary gig to earn some pay.  Whatever it is to you, your hand is bringing spirit into the practice.  Whether it is the practice of customer service, medicine, the practice of implementing APIs or circuits, the practice of acupuncture, you are adding something divine when it is done right.  Whenever you are simply going through the motions or filled with anything less than thankfulness and a desire to do your best in the role you are filling, you are adulterating your power and providing a product whose end results will be less than stellar.  And no matter what you do, however trivial you may think it is, somebody cares a whole heck of a lot about the end result.