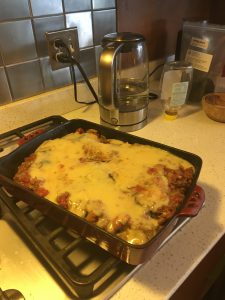 This is a fantastic recipe, given to me by a vegan friend, that is not only delightful in and of itself, but for meat craving individuals, it's a fantastic transition dish that many, if not told, would not know that it did not contain any meat or cheese in the dish.  My husband is a trained executive chef and is an omnivore.  I doubt he will ever give up meat, but I do my best to make yummies that do not include meat and dairy as it is a kindness to the creatures.  I've understood for some time now that our meat consumption wasnt sustainable and encouraged folks to eat meat 2x week or even 2 x a month if possible.  We always bought organic and not off factory farms believing the animals were treated better.  Not up until very recently, was I clued in that this really isn't true.    For dairy, the mother cows are repeatedly impregnated against their will, to produce milk for us.  Their babies are taken away at birth and given powdered milk during their short sad lives.  Cows are very social and create strong bonds with their offspring who typically remain with them for years.  So I thought I would always eat cheese…but I cannot cause this level of harm and feel good about myself.
And the meat, well, even in the best case scenario, which is honestly few and very far between, we are taking a life that truly honestly really wants to live.  They know what is happening, they shed tears, they feel upset, they feel fear.  They also feel such joy when treated well and allowed to live a happy existence with us.
To this end and that of our health (of our bodies, our souls and the planet) I bring you this delightful dish!  Enjoy!
I did modify the recipe a tad.  I used corn starch for the bechamel sauce as I did not have potato starch.  We couldn't find smoked Tofu so I used Trader Joe's Beef-Less Ground Beef.  The texture of this product isn't bad and it does look like the real thing.  This product, by the way, is also terrific in tacos.  If you don't have a TJ nearby, this product, the Ultimate Beefless Ground,  by Gardien is good.
For the spices, as this is typically a lamb dish, I used Rogan Josh which is a persian spice mix.  The above link is less expensive, but there is also one from Penzys Spices, which is actually the one I used for the dish above, which is $13.23 and free shipping.  But the other sounds great and is only $9.65 including the shipping.   I post links in here to save you time and also money.  I try to locate the highest quality and best price on Amazon prior to posting.  🙂  I adore this spice mix which has Cumin, Coriander, Cardamom, Cloves, Saffron and Cinnamon amongst other spices in it.   The flavor profile of this spice mix just raises the dish to a new level and I sauteed my garlic and onions till almost caramelized, then I sauteed the spices to amp up that delightful flavour!
VEGAN MOUSSAKA
Serves: 6
INGREDIENTS
Tomato Sauce
1 (28-ounces) can plum tomatoes
1 tablespoon tomato paste
1 tsp maple syrup (optional)
2 onions, thinly sliced
2 garlic cloves, finely chopped
12 ounces smoked tofu (firm)
⅛ tsp cinnamon
½ tsp salt
⅛ ground black pepper
a pinch of cayenne pepper
Eggplant
3 medium-size eggplants
1 tbsp olive oil
Bechamel
2 and ½ cups almond milk
2 tbsp potato starch
2 tbsp nutritional yeast
½ tsp salt
⅛ tsp ground nutmeg
INSTRUCTIONS
Drain the tomatoes into a bowl. Keep the juice.
Cut the plum tomatoes into small pieces and add to a skillet with their juice.
Heat over medium heat until the sauce thickens, about 10 minutes.
Stir in tomato paste, maple syrup, salt, pepper and cinnamon and remove from heat.
Wash and cut the eggplants into 1-inch think slices, brush slices with olive oil and sprinkle with salt. Fry slices until tender and golden brown on both sides in a large non-stick skillet over medium-heat. Depending on your skillet you can probably fry about 5-6 slices at a time.
Transfer the eggplant slices to paper towels.
Heat one tablespoon of olive oil in a skillet over medium heat. Add the onions and garlic, and cook until soft, about 7 minutes. Scramble the smoked tofu and add to the skillet, cook for about 5 minutes, stirring every 2 minutes. Add the tomato sauce, mix until everything is combined and remove from heat.
Preheat oven to 400°.
Arrange a layer of half the eggplant slices in a greased baking dish (I used a 10-by-6 inch pan). Cover with the tomato/tofu sauce. Top with another layer of the remaining eggplant slices.
Pour the bechamel over the top and spread evenly.
Bake 25-30 minutes until top is golden brown.
Top with chopped parsley.
For the bechamel
Add ½ cup almond milk to a medium sauce pan. Mix in the potato starch, (or Corn Starch), nutritional yeast, salt and nutmeg. Whisk until everything is well combined and add the remaining milk. Heat over medium heat for about 5-10 minutes, whisking constantly until it thickens. Remove from heat.