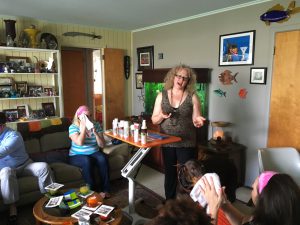 This is me teaching a class on organic skincare and walking everyone through a yummy facial. Our AIR, SOIL and WATER are horribly polluted, as are the creatures that inhabit them.  One of the reasons to go vegan is because eating animal fats, where toxins are stored, causes you additional harm.
Plants don't store toxins the same way animals do.  So in short, the higher you eat on the food chain, the more damage you will have.  Most of us, on some level, realize that what we eat, what we put in our bodies, is going to have an effect on us, but so many people don't think about the toxins in their skincare routines.  Because the body absorbs at least 70% of what is applied, it stands to reason we want to be very mindful of the chemicals in our lotions and potions.
From Avon to Clinique, Borghese to Aveda, no matter where you shop,  it is very challenging to find a line that is 100% clean, let alone one product that is.  A simple word like 'fragrance' can mean an entire chemical laden stew that disrupts your hormones, your endocrine system and includes carcinogenic substances.
Seeing all these chemicals and their effects is what got me motivated to rep for safer skincare.
So I sell for Essante, Miessence and Bioceutica. Links are below for your shopping ease or to just take a more in-depth look.  Also, this can be a business opportunity for you too, to sell something you feel good about marketing.  (See my separate articles on the Superfoods and skincare comparisons.)
www.EssanteOrganics.com/Puretemple – Essante has a great eye cream and firming skincare treatment as well as superfoods.  This line is a mix of organic and wildcrafted.  While they have some nice skincare products, Essante doesn't offer makeup per se' at this juncture, however, I love their lipglosses.  Right now that is the only 'makeup' in the line.
www.bioceutica.com/puretemple  – Bioceutica is plant-based without the known harsh chemicals however it is not a 100% organic line.  I adore their Reverse 20 deeply moisturizing mask package and their mascara, which is keratin based and has grown my lashes out amazingly.  They also have a nice and yummy smelling daily skincare lineup that includes an eye gel with a ceramic tip on the end that feels oh so great in the morning.
http://www.miessence.com/puretemple/en/category/1/skincare – Miessence is so clean you can eat it.  100% plant-based skin and body care with a few home care products and fantastic superfoods.
Some Chemicals that you can go in search of in your home right now (and throw out!) are:
PEG –  Polyethylene Glycol, Ethylene Glycol Propylene Glycol – This chemical poison is in anti-Freeze and yet it is also in so many food stuffs as well as cosmetics.  It is even in some pet foods and treats and, recently, in some wet wipes, I bought for my cat that I had to toss out because um, cats lick their fur so why on earth would such a toxic substance be in a wipe for a cat that is known for grooming? Really, I am absolutely amazed at how many items this toxin is in.  It is used in cosmetics as it is easily absorbed into the skin, so it assists other ingredients in a deeper dive, but the cost can be damage to the liver, kidneys or your brain.
Triclosan – I ended up with this actually in an organic hand cream I ordered which did not provide me with the full ingredient list until I received the cream.  Triclosan, used as an antibacterial, accumulates in our bodies, is a hormone disruptor and can help create bacteria that is resistant to antibiotics.
Formaldehyde – From detergents to hair conditioners to mouthwashes,  Formaldehyde is classified as a Category 2 Carcinogen.
Parabens –  Used as a preservative, it is a hormone disrupter shown to be a reproductive toxin in animal studies (hint…We are animals). Parabens have been detected in breast cancer tumors.
Nanoparticles – Cosmetics have come a long way.  In the past, a lot of our makeups used to just sit on top of the skin.  But nanoparticles are very tiny.  If the nanoparticle is zinc oxide or aluminum, due to such a small size, it can literally get into your body and end up going from an eyeshadow or foundation or sunscreen to penetrating into your organs.
Diethanolamine (DEA), Triethanolamine (TEA), e.g. Cocamide  Monoethanolamine (MEA) Oleth-3, Phosphate, Tea-Lauryl Sulfate  – NDELA –  Nitrosamines have been identified as one of the most potent classes of carcinogens, having caused cancer (liver, stomach, bladder and esophagus) in more than 40 different animal species, including us humans.  These chemicals are reactive toward other ingredients in the product, making a volatile toxic stew.
Check out EWG which you can use as a handy check when shopping.  https://www.ewg.org/skindeep/
And for those of you who are passionate about health, learning and taking the natural, alternative path, I welcome you to go down the rabbit hole that inspired me to become a plant-based lifestyle consultant and write this blog and consider studies with Hippocrates Health Institute.  You can click on the link below to get your free syllabus.  The course is not inexpensive, but I assure you it will be chocked full of information you didn't already know (I thought I would know it all but I didn't) and it will be life-changing.
https://op.hippocratesinst.org/moreinfo/static/34
<iframe style="width:120px;height:240px;" marginwidth="0″ marginheight="0″ scrolling="no" frameborder="0″ src="//ws-na.amazon-adsystem.com/widgets/q?ServiceVersion=20070822&OneJS=1&Operation=GetAdHtml&MarketPlace=US&source=ac&ref=qf_br_asin_til&ad_type=product_link&tracking_id=puretemplehol-20&marketplace=amazon&region=US&placement=B0049Q0P9M&asins=B0049Q0P9M&linkId=daa0cbc74f81e599d0e5fffcfab55a08&show_border=false&link_opens_in_new_window=true&price_color=333333&title_color=0066c0&bg_color=ffffff">
</iframe>