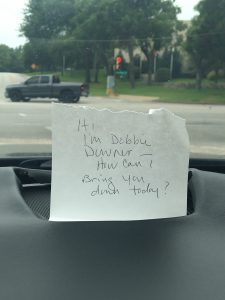 Most everything we do can be viewed as a service, whether it is removing a cancer, detailing a car, housekeeping, managing a project, implementing a service, driving a cab or going on location picking up after people's pets. We can also view all of our personal relationships in the same vein.  Everything we do boils down to what it is we offer and the value being placed, currently, on what we deliver.  We are all put on this earth to learn how to love more fully, grow in grace, be less self-centric and help our fellow beings on this planet.  Therefore, service and being in the service of others, is one of the greatest ways we show love and compassion for others.   It is also the best way to grow spiritually.  We all have our best days and those not so.  To keep yourself on the right path and track, it is a good lesson to periodically ask yourself 'How expendable am I?' What perception do others have of me and my work?  When I am gone, what mark will I Ieave?
All of us, in fact, are both unique, inimitable, a true treasure and, sadly, expendable. When we are placed correctly, when we give what is at hand our full attention, it is amazing what can be accomplished.  We bring ourselves, our uniquely creative, super smart, funny, dedicated and determined ( or whatever brand you are known by) soul to the work at hand unlike any other.  What we each do is as unique as our fingerprint.  Life here is short, so the goal should be to live our very best life and share out our best efforts.  There is a great article called Brand You.  Google if you haven't read it.  We brand ourselves by how we present our souls to the world each day.
Perhaps you are known as the go-to Subject Matter Expert, or the most helpful.  Nobody else can do it exactly the way you do it.  And so it is, with this understanding that we are, in the end, expendable.  Being expendable is what keeps us humble as well as on fire to do our best most days.  If you review yourself honestly and don't like your brand, you can change it by making new, upgraded daily choices, choices that make you more approachable, nicer, easier to work with as well as choices that affect the product you sell, support or produce.
 Brands are everyplace. If you are a window cleaner, are you cordial and happy in your work or too lazy to scope the job prior to giving a price then arrive all grumpy and blame the customer when there's an extra window to clean?  Do you show up at the office with the latest home drama all a wreck and out of sorts? Do you clean houses but forget about the high dusting, washing the bed linens or baseboards thinking that will somehow go unnoticed? Are you a doctor using old outdated surgical techniques?  Are you someone who likes to stir the pot, micro-manage every teammates' move, or control every situation?
When someone thinks of you, what do they envision?  What is your personal brand?   When you think of your personal label, that label is also applied to every business.  What do we know Lexus as?  What begins to disintegrate when the company no longer stands for quality?  What happens when all the leather covered dashboards in their high-end cars peel up, look atrocious and the company nicely confirms with you that there is no recall on that item and it will cost 22k to replace that dashboard?  What happens when other mechanical failures take place?  What begins to change about the story of Lexus?  This is my personal story on Lexus, by the way.  Always garaged, it has been a 'Lexus Lemon' with prematurely failing parts; a failed leaky water pump, amplifier, suspension parts along with a really knarly dashboard I have to stare at daily.
What happens when you are known for excellent appliances (and charge accordingly) then become the kind of business that slides on quality, 'offers' a 3 year warranty and when there's a problem, you tell your customer you never received their warranty card?
What happens when you are known for upholstery work but you don't always pull off a quality job?  Instead, you break a clients chair, get the new fabric all dirty, then refuse to return the chair or clean the upholstery you sullied and instead, laugh at and blame the client?  Yes, another personal example.  Doing this chair correctly the first time would of course been the best outcome.  Tarping and otherwise keeping it safe and clean while in the shop to fix the broken bit would have been preferred option 2.  Spending less than $50.00 on cleaning the chair, some wood glue and appropriately sized screws and less than half a gallon of gas to return it, would have been best option number 3.  I would have gone away happy having resolved the situation to my likeing, having my chair back and fixed with the brand spanking new upholstery all fresh and clean like it was.  I did not begin the exchange irate but I sure ended things with the upholsterer that way and I share my story often.  I am no longer burning with anger.  My goal now is to help others NOT have their furnishings potentially suffer the same sorry fate by taking their business there.
Mediocrity is set at the price point we agree to pay.  Each of us votes with our wallet first and by what we stand for when work is done poorly.  When we lower our expectations, don't demand quality, allow poor workmanship by not saying anything,  we are complicit in the agreement of accepting less than the best from that company or representative.
What have you done for me lately?  Why should I vote with my dollars on your business?  When our focus stops being trained on delivering quality workmanship and excellent customer care, and instead, becomes all about shirking responsibility and getting the money right now rather than having an eye on the bigger picture,  that is when we begin to fail, spiritually and physically.
Sadly, most of us have our own private, or not so private, arsenal of things done wrong to us out of greed, corruption or lack of education and spiritual balance.  Our actions always have intentions behind them.  Those intentions should always be noble.  When they are not, then restitution is in order.  Sometimes, it is an associate who causes the fault but karmically speaking, if there is wrongdoing and you are empowered to change that, then it is foolishness to think you can simply do nothing about it and everything will be just fine.  Spiritually we are our brother's keeper so we are beholden to our brothers walking this path, like it or not, with each of us weighed and measured by our intentions and actions.  We are only human, so the goal is restitution where possible and assuring that, predominately, your intentions are coming from a pure place.
Fulfilling your service well means taking ownership for what you produce.  The customer is not always right.  But, it is the smart business that delves into the full scope of what took place, make an honest assessment of their employees, their business and what really happened and graciously make the attempt to go above and beyond to change any negative perception because those perceptions live on and spread like a virus.   When you anger a customer, you truly have no control over their actions, both immediate and future. Whether they throw a fit or leave quietly, neither means that this is over for them, or you.  Your customer most likely works someplace, has friends, family, a good internet connection.  They may be a judge, lawyer, work in advertising and be well connected in the community.
When you work for yourself, please understand that you don't really.  When you are working at my house, that means you work for me and during that particular moment in time, I am your boss.  We all have a man.  None of us escapes working for the man.  It may be a spouse, contract or independent work, volunteer work, or with a big corporation but there are always people to please, folks with expectations from you that you are either meeting and exceeding or failing at.
When you are working with a client you represent the company to that individual.  Missteps happen and not everything, not every situation is going to be remedied.  But here is the outline to make most of them right, correct what went sideways, and then hopefully for the very angry customers who cannot be appeased, perhaps they will one day be in a place to acknowledge you did your best, you attempted a fair resolution.
Cordial – Always be polite and nice.  You don't really know what kind of day someone you are working with has had, so extend grace.  When you get into a shouting match, you have both already lost and nobody will be able to tell who is the bigger fool.  Keep a level head and let the other person steam away.
Fair – Look for the win-win and be honest with your faults, you will get more respect for that.  If a mistake was made, it should be rectified and swiftly.
Honesty – Don't quote one price and show up later with a new improved quote twice as expensive with excuses as to why.  Believe me, this will become what you are known for.  People will talk and tell others the story.  Also, don't lie.  Don't tell someone you will fix something then walk on that promise.  They may never ever call you to remind you about what you committed to but that absolutely does not mean they forgot about it or that you going back on your word doesn't matter because it does and yes, they will tell the story. what I have found in my polling is that most folks go quiet in front of the business that burned them, preferring to move on with things.  They do, however, still talk about what happened and share that advertisement and sometimes for years or even decades.  Nobody wins really by being dishonest about the truth of things.
Stability – The best service and the best companies provide a product that is constant, bringing stability to what is delivered to each and every customer each and every time. Instability means your brand cannot be trusted.
Ownership – Take ownership of what you do, the product you deliver.  One bad day, one bungled project may be an 'oops oh well' to you but to your client and the business you represent, the end result is that you did not shine and that is the story that gets told.
YOU ONLY CONTROL YOU – You may be in temporary work, or feel that your job doesn't really matter but trust me, to someone it sure does!   At the end of the day, you have great power to make things happen right, but you have zero control over who hears that story. When you take the high road and offer your level best every day, relationships can turn magical.  Inner peace grows.  Home life and clients improve.  Make your story count by doing your best.