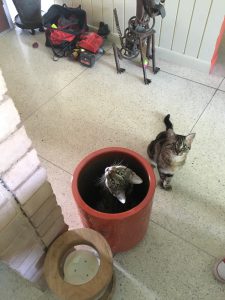 Most of us have an affinity for our fellow earthlings, we are curious, fascinated, protective but not all of us have cultivated compassion or respect and how we treat our fellow animals dovetails into how we also treat each other.
Pet.  The word seems to demean but really, it doesn't, or shouldn't.  A pet is something treasured, held upon a pedestal, something adored, loved, something set apart which brings joy to life.  I realise they can also pee on the carpet, wreck the potted plants and chew through a sofa (untrained and unsupervised) but the point is that this word,  when created, was meant as a description and meant in the most positive of ways.
Humane comes from human.  Anything inhumane is something considered barbaric, subhuman, a treatment beneath us, shocking and atrocious, what one wouldn't ever do.  And yet barbarism, as well as amazing grace and altruism is within our scope, how we are all wired, even the meekest of us.
I have studied the animal condition at great length, read books, watched films and seen what cannot be unseen on the atrocities of farm animals, both dairy and the meat industry.  Perhaps it is simply that social media is now a thing which brings it all to light, but there seems to be far more violence perpetrated upon our fellow animals these days, from kicking a cat to tricking a dog into picking up a firecracker.  It makes my heart ill to see these innocents mistreated because I know now, how they tick, how they think.
As a kid I was not as patient with a bird as I should have been and once over punished a cat I adored.  Both forgave me but the pain of my actions, both immediately afterwards and later have served to remind me that I, too, have the capability of evil, of unkindness,  a set of expectations that, when not met, harbour such impatience within me.  I have evolved, grown in my awareness and understanding, however these two childhood episodes confirmed for me that I am not exempt from and must ever be mindful of my ill-actions, to take power over them, so that I walk the planet ever mindful to cause less harm.
I often wonder about God.  I was brought up that we were created in his image and we are to have dominion, guardianship, over all the animals, land and sea.  I know how we treat them., and I often wonder, what happened because we have fallen so far.  How did we travel such distance in our nature from a creator who made all of them and us in his image?  Or perhaps our creator just has far more control over himself than most of us do.
Animals continue to amaze and inspire me.  They generally have a lot of self-control and patience, such as with their young and with us too.  They are clear in their messages, in their communication of their needs and wants and can be exceedingly loyal and loving, and forgiving.  I like the way that they tend to live life in the present, and with hope for goodness.  Now, I typically wake up in a good mood, but my mind may be on various things, my daily morning chores, for example. I have timelines in my head.  And I used to have a corporate job to go to.  Now that I don't need to pad down to my office and check the laptop by 7 am, I have really enjoyed observing my bed mates in the morning.  Our Doberman, Rhett, likes his belly rubs and rolls over (generally ONLY in the morning after waking) for a belly rub.  I brush his fur, clean his ears, brush his teeth, tell him how handsome he is and he totally gets everything I am doing.
If the kitties have already gotten up, they run over to me when they hear me stir.   It's time to share the joy of a new day with me.  I am honored by their sweet greeting.  I am glad for the time not to rush all this, as I had done for countless years.  None of us knows the hours or the days we have left so treasuring now is what they have taught me.
Once Rhett's feet hit the floor, he grabs a toy and this lets me know his mood.  I also like that his first thought for the day is fun.  What is our first thought for the day?  How often is our first thought on fun?
When I leave the house and return, there again, I get the marvellous greeting home.  They bring such dimension to our lives, each one in their own special way.   We are rushing around, driven by work, chores, finances, keeping house and socializing.  Our fur companions are focused on joy, on play, on being with us, living in the present, getting some yummy food, excercise and relaxation.  When you watch and learn about farm animals or all the exotics in the wild, if you spend enough time with them, you see all these amazing and unique personalities come into play and learn from each experience. And, like any relationship, time adds layers of complexity, of grace and trust and adds to the sweetness of life.
When it is said that the meek shall inherit the earth, I often wonder who that will be.  PS That's Loki inside the planter and Hydra next to it.
Recommended Reading: