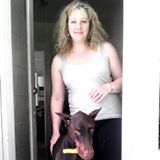 Brushing your pets teeth is important, but how many folks actually bother on a regular basis?  With some pets the job is easier and others completely impossible.  Firstly, just like us, we need to be mindful of the food we feed them, avoiding sugars that harm teeth.
Raw meaty bones help clean the teeth and give your pet something to occupy their time with too.  Raw because cooked bones are brittle.  Yes, you can feed your dog or kitty a raw organic meaty chicken bone, just never any cooked!  Just as you should for yourself, buying clean, fresh organic meat from a reputable place assures you don't have to worry about bad pathogens.  And remember, your dog or cat is a carnivore, with a system built to eat meat.  We do not possess that system.  When we ingest meat, we are not eating as our maker intended.  Therefore, we are more susceptible to illness from partaking.
Avoid bad mojo ingredients – There are a plethora of products out there and it still amazes me how Propylene Glycol (antifreeze) is in so much stuff, from cosmetics to pet products. Proof we are insane.  Read your labels and shun anything with chemicals, sugars, by products.
Rhett turned 7 this April.  He has never had a formal tooth cleaning at the vet and one is not needed.  I attribute this primarily to Ark Naturals Breath-Less Chewable Brushless Toothpaste and Ark Naturals Plaque Zapper, which is a powder treatment you add to the drinking water.  Cats and dogs typically don't mind, it is flavorless.  This is exceedingly important for picky kitties!  The product contains naturally available enzymes which are activated by mouth saliva. As your pets drink from their water bowl, Ark's PlaqueZapper zaps harmful mouth bacteria and the enzymes stop plaque from sticking to teeth.  The vet said Rhett's teeth and gums looked fabulous and was shocked when I told him we had never had them cleaned.
I highly recommend using both the chews twice a day, after breakfast and dinner, and in the morning, add your water treatment because the zapper powder lasts up to 8 hours once mixed with water.
Feel free to comment, I love reading what folks have to say and kindly share out my blog to help others.