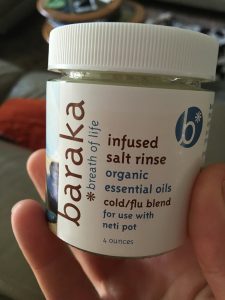 I have used a neti pot for many years now and love it!  But for those who have never tried it or don't know what it is, here is a brief description:  You put in 1/2 tsp of sea salt and warm purified water into the pot.  Then you adjust the spout of the pot into one nostrile at a time, using about half of it in each.  As you pour in the saline solution, you are tipped over the sink, leaning back too far means you end up drinking salt water which is not attractive.  So, keep bending forward, far forward with your head tilted, perfect!  The water will gently cleans your sinuses as it pours out the other nostril.  Then you use the other half of the liquid on your 2nd nostril, tilting your head the other way.
Before I discovered this stuff, the Baraka Infused Salt Rinse, pictured above, I was using mundane sea salt.  Those days are far behind me now as this stuff is like a SPA for your sinuses!
If you already have a nice ceramic neti pot, then all you need is this jar of yummy.  Click on the green writing to shop.  If you are needing a new neti pot, Baraka also has a kit, see below in green to take a gander at that.
The Baraka Neti Pot Starter Kit provides you a lovely ceramic neti pot, sinus oil and 2oz of the Salt. This kit contains: One neti pot, organic essential oils for the sinuses, and French Atlantic sea salt.  Not a bad deal.
There are great benefits to using a neti pot.  Firstly, our bodies were never ever meant to carry the load of toxins our mad modern world has thrust upon us.  In fact, they say there are little to no wild scapes left completely unpolluted by man because water and air travel.   City dwellers of course have it worst.  You can Johnny Appleseed your landscape, and stick a potted plant in every nook and cranny of your home, purify your water and air as I have done and take a plethora of vitamins and minerals (plant based, please) but you will still need a sinus cleanse, my friend.  And it feels great, so try not to fight this.
Use of a neti pot can help restore your sinuses to health, whereas all the over the counter nasal pharma stuff, while it may offer temporary relief, adds a toxic burden to the body.
Terrific for general overal health of your sinuses, as well as for  a healthy and natural way to alleviate colds, allergies and sinus problems.
I use a neti pot on a weekly basis but doing so every day if you have severe pollution or congestion is very helpful and safe to do.
Feel free to reach out to me with any questions or comments you have.  Be healthy and blessed!  🙂