All of us are inherently corrupt in some way. The world, in fact, is filled with corruption and before we ever do a thing to it.  I believe this is due to the fall of man the bible talks about.  Perhaps it is truth that once the lion lay with the lamb, everyone was dining on manna from heaven and life was sweet.  We wanted more and then all hell broke loose.  We compromise and while the laws are written upon our hearts, we war with our ego, our desires and principles.
Because of the imperfection inherent in our condition, our fault if the bible is to be believed, then the goal becomes ahimsa or causing least harm.  But we know we will cause harm.  The gas guzzler is swapped out for an electric or hybrid. Both still burn oil and create battery waste.  Some folks eat off paper plates so their dishwashing is reduced but their trash footprint is larger. So the goal is baby steps toward kindness and causing least harm, with the compassionate understanding that none of us is perfect, nor will we ever be fully enlightened on this plane of existence, but we do have a goal of it.  The meat eater pets and perhaps cherishes his cat. The vegan kills plants. I sprout stuff all week long, just to watch it grow a wee bit and eat it.  In my Hippocrates studies, I was taught that sprouts talk to each other while growing as well as pick up on the energy and mineral needs of the individual growing them, through touch.
In The Secret Life Of Plants, by Peter Tompkins, we explore the spiritual relationship between plants and man.

In Intelligent Trees, we learn from a forester, Peter Wohlleben,  about how trees in a forest support one another and it is completely fascinating as I have always thought of the roots being their brains.  Turns out I was not far off the mark with this.
Anyone who sets themselves up as 'better than' is under the employ of human vanity.  There may be someone who out vegans you, someone who creates far less trash, lives in a yurt and rides a bike.  Sure there are indeed folks who do things greener, walk a lighter footpath on the earth, but the point is that all of us are here do cause harm, are not perfect and are merely learning our way back toward the lost enlightenment.  And as the fall wasn't any other animals fault but ours, I believe it is these creatures we inhabit the planet with that aid us greatly in our crawl back to sainthood.  It is in understanding and loving them that allows us to be more patient with each other.
If you're looking to explore a great read, check out Karlene Strange, The Spiritual Nature of Animals. 
I find love, in my current flawed condition to be nearly equal parts awe and annoyance.  Of course, the love bit wins out over the annoyance bit, but it is definitely a humbling struggle.  I marvel at the love and full-on trust bestowed upon me. I marvel at the workmanship of my creatures, how they are so perfect in form and function, so beautiful and so emotionally sweet and balanced.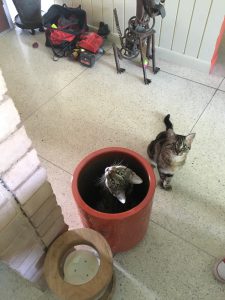 Hydra & Loki, pictured to the left there, were brought into the house after our very well behaved Tiger cat passed away.  They are such a handful that I promised my husband no more kittens.  Loki, the guy sitting in the pot, is fairly well behaved and very loving.  He just cannot get it through his head what not to scratch at, such as the carpet or the furniture.  He knows better by now but just keeps at it.  I have employed sprays and he has a plethora of scratchers and toys, which he loves.  Mostly, though, he is a loving cat and tries to behave. He was really rambunctious and not much of a lover as a kitten.  But now he is very snuggly as I have taught him this.  He used to draw blood with his love bites and has now learned not to bite or to bite super softly (Good kitty). Hydra, the kitty outside the pot, is just one of the sweetest cats ever.  She keeps her claws retracted when playing, including her back legs when she is really going at your arm! And, she even inhibits her bites.  I taught her none of this.  I was only very gentle with her as I am with all my animals.  As a tiny kitten, every time I picked her up, she'd begin purring.  She wasn't well and I had to boost her with some goats milk.  But she is also the most clumsy cat I have ever known and I have known many cats.  It's not just about knocking stuff off the counter because that's fun to do, it's mostly about running pel mell into stuff and just not managing to avoid it.  We have lost thousands in all the damage, all the broken pottery and glass.  I have glued stuff down with putty, put things way high up, but she manages to break something on a regular basis. She is also first at the door to greet me home and tell me how much she loves me.
While our animal companions are very trainable (for the most part) and they love us and want to please us, we humans struggle with applying 'human' logic to them.   Animals do have a sense of fairness and of what is right, ethical, but it is contained within their particular perspective as first what they are (dog, cat, fish, lion, elephant, whale) and then all that is coupled with their individual personality and what has, so far, shaped their life and mindset, how each was individually socialized.  Our pets may know you leave all day Monday through Friday, for example, and they know the time you leave and should arrive back at the home, however they have no concept of why, that you may be earning the kibble wherever it is that you go.  They do, however, know where you were, based on the smell.
They know, given consistency,  when you will be leaving and arriving back home, when it's the weekend where things may relax and perhaps they can expect dog park time or extra loves.  They sense so much from us in both our tone and body language but they don't know that your handbag or wallet cost $500.00 and they don't care.  They may, if you jerk the wallet away exclaiming 'No, bad!' that this action was a wrong choice and perhaps not ever chew your wallet again.  Or it may take several firm but gentle coaching sessions to effect that change.  Our Doberman had a penchant for underwear, left shoes and walls.  Fortunately I worked from home and could catch him enough times that the walls weren't badly damaged and although I did go through numerous left shoes, (no idea why just the left) and a payload of undies, he finally stopped playing with 'My Toys' and grasped, as I kept repeatedly re-directing him to one of is, began grabbing his own stuff to play with and chew up.  Just like we get, they get bored or stressed out, smell you on the item and begin chewing.  They do absolutely care that you are upset but don't always grasp why unless you catch them in the act, right away, and correct them.  Correcting them should never include physical violence.  And it really shouldn't include yelling (pointing finger at self right now).  Remember that we have created 'money' and applied that 'value' to our stuff.  The rest of the world doesn't run like this or think in those terms.   Hydra has no idea what money is or that I culled a very special collection of Mid-Century Modern tchotchkes to feather our MCM home with.  She just ploughs right through them, then comes running to me trilling when she sees that I am angry (hears me yelling) and wants to comfort me by offering up her joy and sweetness.  She is the ONLY cat I have ever known that literally comes running to my aid when I raise my voice at her.  And once, Loki looked so quizzically at me as he gently touched his nose to mine, staring into my eyes the entire time, as I ranted about something he had just done to upset me.  I guess it is a good thing they don't fear me, so yelling aside, I do many things right.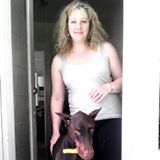 Our Dobie is (mostly) very well behaved, however, he is exceedingly stubborn, 'The most willful dog I have ever known' as the vet put it, and is also quite demanding of treats, more food, more time, more pets, more walks, more engagement.  He can also chill as he is doing right now.  But oh yes, once I am done typing, that walk had better happen! In all seriousness, he is a very well behaved boy.  He is also very self-possessed and feels comfortable telling me exactly what he wants. He feels safe, deeply loved and knows he is a part of our family.  His sleep is untroubled except when he went through bloat surgery and whined in his sleep because of the pain.  I love our trust and how much I have come to fully know this creature that shares our residence. I also feel protected in his presence and have learned all his different bark tones that tell me if it is someone we know at the door, how well we know them or a stranger that he likes or a stranger he really doesn't.
I really love this book, On Talking Terms With Dogs by Turid Rugaas which blew me away because I really thought I had pieced quite a bit of my dog's communication together.  After reading this book, I noticed Rhett going first into a play bow, then looking away briefly, before making eye contact again with another pup, then repeating the procedure.  It's the looking away bit I didn't understand, but it basically means 'I don't want to fight you'  So my dog, who was confronted with this other pup that was growling and charging a bit aggressively, was essentially saying that he was here to play and did not want to fight. How brilliant!  And the other dog absorbed all that message!  After Rhett repeated the body language a few times,  the once aggressive dog went into a play bow too and looked away briefly then back etc. Game On!
I take a lot of time to simply marvel at the animals in general and specifically at the ones in my home.  Each is a snowflake, unique and never to ever be created again.  Once Tiger kitty exited this plane of existence, that was it.  Sure there's no shortage of cats, but I am left heartbroken.
Each animal is similar and unique.  Given the chance to shine their personality, you will find it in a chicken, a goat, cow, horse, pig, you name it.  And each one will love you and communicate with you in their own individual way.

Mathew Scully writes a compelling book, Dominion,  about the struggle we have with our own power and how we cause suffering to the animals.  A lot of what we call stubborn or not minding sometimes is simply body language.  They don't speak English (except some birds), although they often do learn what it is we are saying to them provided they spend enough time with us to learn.  So, their way of communication back to us (and their kind), becomes bleats, sighs, screams, chortles, huffs and tons of body language.
We may believe we own a creature and perhaps under the laws in place, we do, however,  under the laws of the universe, we don't own anything.   I can assure you that the cow, pig, dog, cat, bird you think you own absolutely do not see things in this way at all!  These creatures see themselves as individuals just as we see ourselves.  Based upon their own personality coupled with their life experiences thus far, they view you as a friend, acquaintance,  family or pack – heard member or maybe someone to fear, avoid or someone to love and to draw closer to.  They are either actively engaging you, trying to build upon or begin a relationship with you or they have given that up because of what outcome they encountered.  In giving up, they generally look away and keep to themselves. Many damaged souls are in this shape at shelters who have to learn that not every human is abusive.  They have their own thoughts, preferences, joys and pain just as we do.  Most of the communication is all in the body language and their eyes.  They want their friends, their kind, they are curious, and want comfort, to play, to engage and they definitely see themselves as a part of life and, where appropriate, they do consider themselves as a part of the team.  They get bored if there isn't enough to do.  They blossom when they are deeply loved and cared for.  Just as we do, they bond where that is appropriate.  A dog left in the yard all day long and by himself with little to no interaction with you is very unlikely to guard you or your property.  Why should he care?  Where is his skin in this game?  But when he loves you, yes.
The Chain, by Ted Genoways, a poet, centers around Hormel and Spam and the cruel accident prone fast-paced production lines in packhouses across America.
Seeing the baby goats and calves taken from their mothers just days old is heart-wrenching.  The mothers have no idea why this is happening and are gut wrenched time and time again as we repeatedly do this on the new factory farming model.  The babies are confused innocents in all this cruelty perpetrated on them as they JUST enter the world.  Watching a baby goat with its mother, given a chance at joy, they prance around and are just so cute.  They don't know that we are bringing souls into the world for the purposes of harvesting them for food.   In the wild, there was a bit of democracy going on, survival of the fittest.  The majority of the heard would survive if they worked at it.  We have changed the game in our farming methods where that is barely possible.  Once in a blue moon, a pig or cow escapes, it makes the news and people rally to save him or her.  But we have largely lost our compassion for these creatures and we need to change our mindset and lessen our grip on evil.
If things had just remained the way they were, say back in the 50's and 60's, where the animals we were raising for food were treated well, had sunshine and fields to play in, weren't continuously raped to remain pregnant milk producers, stayed with their babies, with us taking the surplus milk, old dairy cows going out to pasture, I don't believe this topic would have ever come up and i would never be writing this.  While killing is still killing and I believe a direct correlation to our fall, it was done at a far saner pace and the animals got to live a decent life first.  Seeing all the abuses is what turned me off meat and dairy.  I haven't had ice-cream in 2 years.  I believe we are ruining the planet with all the byproduct waste, the rain rainforest demolition and soil erosion necessary to feed our meat and dairy wants.  Believe you me, they are wants and not needs! One lb of beef requires over 2000 gallons of water.  Folks, this is not sustainable.  Plants have more bioavailable protein than meat ever could. And you won't suffer chronic disease by switching to a plant-based diet.  Our soul, our divinity, is crushed along with the animals spirits as lives are taken in these sped up no light zero kindness factory farming methods employed today to speed up the kill process.  The way is not perfect because we cannot achieve that here, but the way is making daily choices in our lives which cause the least harm to others.