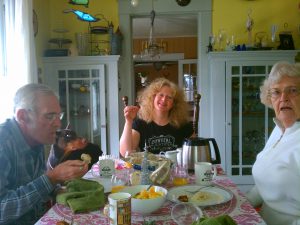 Sticks and stones may break my bones but words may also hurt me.  Most everyone has an abuse story and the problem spans the socio-economic stratosphere.  I grew up upper middle class.  We bought cars and houses and boats without loans. Now with two mortgages and a car payment, I am still in awe of this.  We had good clothes, a fine home, yummy home-cooked meals and loved each other.  This is me, my mother Frances and my brother Carl enjoying brunch at my home.
My mother was sick.  She was bi-polar and never got the help she desperately needed. As my late brother Carl put it, she was full of high demands and my brother John talked about how self-indulgent she was.  She poisoned everybody close to her, losing long-term friends who got too close to the flame.  I was adopted when my two brothers were about 12 years old, after wanting and trying for a girl baby and ending up with two adorable boys.  My two brothers and later me, all rode the roller coaster of her moods and insane put-downs and punishments. When she was upbeat, she was high on a cloud of joy, full of humour and charm and would sweep you up and along to enjoy the view from high above.  When she was up we went shopping for clothes.  Shopping was mothers happy place.  That and eating.  When she was up, things were very good.  When she was down, she was taking you by the arm and dragging you through the hellfire with her.  One thing wrong, or even perceived as wrong, and I went to school with purple, orange and red buttocks and hamstrings and a few times with her handprint across my face.  As horrifically as her hands and fists and belts could be, her words were far worse.  She deliberately kept me off keel, never knowing if I was pretty, smart, funny, nothing was ever solidly communicated because what she felt about me, and any ability I may have had changed on a minute by minute basis.  Straight answers to my questions never came forth.  The only message that I was completely and consistently told, however, was that whatever it was I wanted to do, sing, dance, play the piano, gymnastics, track, cheerleading, there was, to be quite sure, someone a lot better than me at it.  And this message is absorbed into my core being today.
What someone thinks of you can matter as much as they mean to you.  A stranger gruffly telling you to bugger off may hurt you or just blow on by depending upon the mood you happen to be in as well as your particular personality.  Someone you rely upon and deeply admire or love saying something hurtful, however,  can be an icepick through the heart no matter how stout you are emotionally.
The story growing up as a young teen (between 12-18) was that I was a handful.  In reality, all I wanted was peace.  I did no drugs, no sex, no teen pregnancies, straight-A student, physically fit, pretty and my room was always spotless. I respected my elders very much but to my mind, mother was a handful and I was so tired of it.  I couldn't keep dates.  Guys were flat scared off by my mother.  Relationships typically ended by the 3rd date. You could set a clock. They all said the same thing.  One break up ensued after a classic chase down of the car as we sped away on our date.  My guy stared in shock into his rearview mirror and exclaimed 'Is that your mother chasing our car?'  Embarrassing.  I knew we'd have dinner and then that would be it for us.  On a humorous note, when I married Michael, he explained to his family that I was not blood-related, having been adopted, so, therefore, did not have the 'crazy' gene.  Anyone meeting my mother for the first time, was schooled on this in advance in hopes they just might stick around long enough I could see whether we were a good fit or not.
One particular late afternoon, just ahead of dinner, mother was off the rails when father came home.  Dad was typically kind and balanced, metering out his few punishments with solid judgement.
I was blamed for her upset that day as she spewed venom about my severe disobedience and how she could no longer handle me so she was demanding that my father DO SOMETHING!   I found myself in the kitchen, ostensibly to help set the table as mother had asked and was immediately yanked up by my hair and swung around the room like a lasso all over the kitchen.  I hit walls, I hit the floor, I hung mid-air for minutes at a time as my father glared at me and held me a foot or so off the ground by my ponytail with one arm.  I remember the look on mothers' face as I finally let go a urine stream in sheer fright.  Only then did she realize what her words caused, but still couldn't see the benefit to getting some help!  I am surprised that most of my roots held up to all of that. This hair-raising incident happened exactly twice.  Years of mothers tirades had finally broken my dad down.  I could not WAIT to get out of that house! No, there is no excuse for what he did to me but the point is that we all can instigate with our words.   Words create or destroy. And the more we love the ones who harm us, the more soul-wrecking the abuse actually is.  Nobody discussed the elephant in the room after those two incidents with my dad and other than those two episodes, he was a great solid guy and the one I confided in because mother was bats and I needed help coping.  He would tell me how she did this similar behaviour to the boys but never as badly as she treated me.  He had no answer to make it stop.  When I was about 14, things were so rough. Every day I awoke and put on waterproof mascara because I knew at some point that day, mother would make me cry.  She would twist my words, make things up, accuse me of things I never did and mete out punishment accordingly. I could not even escape into a nice teen conversation with a friend, she would scream that I was talking about her.   Once when I was on the phone chatting,  she came to my room demanding I stop talking about her (I wasn't) and proceeded to mangle my hamburger then my fries, with her hands, making them inedible for me.  I threw my milkshake at her.  Yes, I was the bad child.  But it was worth going hungry to take a small stand.  It was during that year I went to school and finally talked to someone about my home situation.  I asked if I could be placed in a new home just to finish out school because this was all too emotionally toiling for me.  I had contemplated suicide. When we all sat together at the school with my dad, he was devastated.  I really did not mean this as a personal affront to him or her, I just wanted to finish school and gain some peace.  With him so visibly upset, I caved and remained at the house.  Mother railed about divorcing him, she wasn't happy.  She was never happy.  And shortly thereafter, dad was diagnosed with Cancer.   She stayed and took care of him. Being a homemaker all this time, she ended up getting a job at a hospital when my dad could no longer run his service station.  He died as I turned 18.
What happens in childhood never stays in childhood.  What happens in the office never stays just in the office. This crap follows you throughout your life.  Each of us is here for reasons that only we can fulfil and that only we can fulfil in our particular way.  Each of us is a unique creation.  We must be careful with our words because once uttered, they simply cannot ever be taken back.  Thoughts are energy and words are the form of them.  Have you ever thought about someone and then they called?  Thoughts are serious business.  Words can be so empowering or a waste of breath or just utterly slay someone.  Your karma.
I deal with my abuse daily.  I work through it, building myself up as I have been trained to do.  Forgiveness, and people, we must forgive, is of course possible.  Forgetting that the cruelties ever happened is not likely.  Mitigating the damage from them is ongoing.
I share my story here, and for the very first time, in hopes of helping anyone suffering from abuse.  It is never your fault, no matter how much of a 'handful' you may be.  But do seek help to salve your emotional wounds and become whole because the world needs you to fulfil your purposes as only you can and you must be well and happy to do that.  Also, it's ok to love the toxic person in your life, but whether your toxic person is family or a friend, it is completely up to you, once grown and in control, whether you allow the abusive person to continue to play a role in your life and exactly how much of a role they have.  My mother died at 86 just 3 years ago.  We took many breaks from each other because of her toxicity.  From marking my wine bottles, accusing me of being gay when I have dinner with girlfriends, creating 11th-hour emergencies for me to fix, to ostracize my new would be husband, it was so much turmoil in my life.  And I could not fix her.  I got her books, I tried.  I want to point out here that I am not slamming anybody who may be gay. The point here is that I am not and my mother knew this, she was just making up cruel stories to cause harm and stress.  I am not an abuser of alcohol either, but she again made up stories.  Mother was a pot stirrer.  If she loved you, she wasn't happy until you were miserable. I really wanted to break free but she was my mother.  As I put it to friends, if she were anybody else, she'd be flat gone out of my life.  How do I exit my own mother?  I loved her and just wanted her happy.  Only once she was close to dying did I realize happy would never ever happen here for her.  At one point she got some counselling which honestly helped…until she declared herself well and cured and stopped working at this.  I tried to explain to her that with such long-standing abuse from her family and what she continued with her children, it was actually going to be a lifelong and ongoing healing process for her that benefited not just her but was also such a huge help to anyone around her.  She didn't believe me.  I tried explaining how she was ruinous to her own and other peoples lives with this behaviour, how I loved her but could no longer tolerate the bad behaviour.  But it was everybody else's fault, every pain she felt, not once and not ever was it her fault.   People around me used to call her evil.  Frances was never evil.  She adopted me with full intentions of doing things better.  She taught me to be and was always kind to animals.  I came to the house completely fearful of animals,  even cats. I was fearful of everything and everyone. I had no trust, having been bounced around from home to home before I was even 3.   I believe she deeply loved her children.  She was just so damaged that she could not get out from under it. For 40 years I begged her to get help.   Now she is at peace.  She was very kind to me as she was dying and I am so thankful that I could be there and also that nothing ugly came out that I would take with me to my grave.  She was kind, called me beautiful and told me what a lovely daughter I had been.  I made the choice at 4 years of age not to ever have human children of my own.  I did not want to pass down this legacy of pain.  At one point I felt healed enough to adopt a child as I had been thankfully adopted, but it just wasn't something my husband wanted to do when I broached the topic.   I do very well, however, with our animal children.  I have mostly handled and supported them in a balanced and loving way.  I have always worked on my temper because my mother never did.  I saw the great harm a bad temper caused.  It is all about control.  One should strive for control over ones' self, to express in productive, honest ways, both for your own and others sake. We can all run the gamut emotionally but I always ask myself if something is worth going to battle and how far I believe I should take that battle and if I do that, what will it do, how will it help the other person, the situation or myself.  I breathe.  I do daily mediations and yoga and I tend to be a positive person naturally but I work to remain upbeat.  Mostly when people afflict you, it's about them and not you.
Reach Out In Kindness.  You don't always know how folks in your circle, in your office have really grown up, how their spouse may be or what exactly they are going through.  I am a huge advocate for being kind.  People who are toxic can be removed from your life or in the case of a working relationship, remain cordial but remove yourself gracefully wherever you are able to do so without it looking obvious. Fight the urge to be cruel back to someone mean to you because they may be afflicted like my mother was and truly need help.  And as personal as some comments seem to be which are made, try to see beyond them, much as you can, to the person and the moment in which they were spoken.
Take Ownership Of Yourself – I like to say that mother was a lesson in what not to do in life.  I have pretty much taken all the negative skills she taught me, like how to ridicule,  play the victim, how to slay someone with two words, how to manipulate someone into giving you what you desire and turned it all upside down.  What you say and how you say it may affect people around you, so be mindful of your tone and words. Apologize when you mess this up.  I try very hard not to take out a bad day on others.  Sometimes that means I hole up alone, but typically it just means calming myself down and being in a place where I can discuss it rationally with a friend or my husband and respect others enough not to be sharp with them when they didn't cause my bad day.  My mother got into this thing of routinely badgering the check out people at the grocery store or pharmacy.  It was embarrassing.  I would be mouthing 'I am so sorry' as Frances would be just completely going off on some poor person just trying to help.  Very rarely was the check out person the actual cause of her frustration.  A grand lesson in what not to do.
Know your personal triggers so that you can try to remain calm and support yourself.  For example, for me, being adopted and abused, being told my entire life I never measured up to the expectations my mother had of me, my trigger is abandonment and not ever measuring up.  After being at Sprint 26 years I felt fairly confident that after that length of time, it wasn't personal when I got laid off.  But at my new job,  I am always feeling like the other shoe is gonna drop any minute.   I have these self-talks, sort of like Stuart Smalley looking in the mirror saying I am good enough, smart enough and gosh darn it people like me.  I work to diversify my income stream by doing this blog, selling organic and plant-based skin and body care products, and renting a place.   But it's whatever gets you through the day, that doesn't cause harm to someone else.  We are all here to help ourselves and others along the path.  Cruelty is never a part of helping.
It's Totally On You To Heal – This may sting a bit, but whatever hell you have gone through personally, all of the ownership for moving on and letting go of it falls squarely upon your shoulders regardless of what wrong was done you by whom or how long.  Get free of it and sort yourself out.  Don't be like my mother and let abuse ruin your entire existence on this plane and damage others in the process.  Life is short so get out, get happy and enjoy it.
For your reading pleasure, I have included helpful books, just click on the titles to do your Amazon shopping.
Helpful books: 
Out Of The Fog by Dana Morningstar