Someone recently asked on Facebook is there anyone in the Lakewood area of Dallas that does Canine Massage Therapy. Someone else commented 'Wow, cool, I didn't know that was a thing!' Thankfully we live in a time of great change both in mindset and education when it comes to a holistic approach to animal (and human) wellness. Many savvy veterinarians offer acupuncture and massage therapies and can either schedule a session at their office or refer you to someone skilled in those modalities.
Pet parents want to know what to expect, how often is good, what are the benefits and how much does it cost? I hope to answer all these questions for you but please reach out if I missed anything burning on your mind.
I partner with veterinarians in the area & typically work from my home 'Spa Room'. I have a toolkit; from mats to cupping, gua sha stones to red and infrared light therapy, and Professional 635nm Light Therapy for laser acupuncture, the session is individualized to the patient. While the client fills out forms I see how the dog is moving, go over any issues/concerns, and a pit stop before we do the hands-on therapies. I employ only canine approved certified organic pharmaceutical grade essential oils as my patient quiets upon a stone healing bed that emits far-infrared ION to speed healing at a cellular level.
How Often? Every dog (and every human) should have regular bodywork. Costs range from $50 to $100 per session depending upon the area and the education your therapist has as well as travel fees if they must come to you. How often depends upon the dog. Chronic conditions should be treated weekly. Bodywork should be spaced 5 days apart so that you allow for the work that has taken place to have its effect before doing more. So a dog with a chronic condition will benefit from a weekly massage or at least every other week. Dogs with jobs to do may benefit from every 3 weeks to monthly maintenance.
Benefits of massage – The benefits are numerous. Its gonna sound like snake oil it's so good! So I combine acupressure with several massage techniques when I work on a dog. Recently one of my clients who's back legs are really shot, severe mobility on the hind end, came to me constipated. He'd not gone in 48 hours. I did the gastrointestinal protocol on him and just as soon as I finished working on those acupoints, the boy got a bit restless, so we took him out to the yard to go BIG poop! I think I did a little happy dance because I love helping these guys out and facilitate the environment where they can all get the healing they wish for.
From spinal trauma, gastrointestinal issues, over-excitement, emotional traumas to arthritis, Hip Dysplasia, to general stressors, bodywork offers great benefits that compliment whatever your veterinarian is doing and facilitate healing.
All animals need to move. The lymphatic system is designed to help detox the body and doesn't have its own pump; movement is the pump! A dog that is healthy with no imbalances should have a monthly massage. All of us get off balance and canines are masters at queuing off of us. This means many of our imbalances become theirs as they live with us and offer us unbelievable support on so many levels.
Dogs who do have jobs, such as police or rescue work, should have regular bodywork to decompress from all of that. Just like us, they may really love what they do, but they also absorb a lot of stress from the work and this helps the dog relax and get calm. Massage ahead of a big sporting event helps tone the muscles and prime the dog for competition. After a big event, it helps the dog heal from any overwork, any tears or strains.
For Chronic conditions, such as muscle atrophy, arthritis, Hip/hind end weakness, muscles being tight from over-compensation/imbalance, leash pulling (which causes spinal imbalance) weekly massage helps take the patient from chronic trauma to better mobility and less pain.
Leash Pulling – Here I can use my Doberman, Rhett, as a perfect example. Rhett near continuously pulls on his lead. It's not as bad as when he was a puppy but he is very headstrong and tends to pull. I think my last words if I die while walking him will be 'Rhett, no pull.' Rhett had spinal trauma. At first we had no idea what happened or why. Seeing my boy go from a very powerful 100lbs of a lean mean machine to not even having the will to bark, unable to go for walks and couldn't get up into his favorite chair by himself, just sit and shake and all overnight, was just heartbreaking. We did acupuncture work on him with 2 veterinarians; Dr. Hartai with Spot On Wellness and Dr. Molidor with East Dallas Vet Clinic. Both also do house calls for anyone in the Dallas area. It was during an acupuncture session that I was instructed to provide massage at home in-between sessions. I had zero training but had just been laid off at work so I had time to take the courses and be certified. With the education, I applied my skills first to Rhett and saw where I was able to be a big boost to his mobility in-between trips to the vet for his acupuncture. And it was through the process seeing my boy heal himself and get to what he is today, 98% back to normal, as the inspiration to help others. MRI and surgery were strongly suggested. Evet had suggested PTS if surgery wasn't an option due to quality of life issues. But I watched the miracle unfold without anything more invasive than tiny needles. I have been asked by many folks what happened to Rhett. It all stemmed from leash pulling. So getting your dog fitted into a proper harness, avoiding the neck and coaching consistently about NOT pulling on the leash is very important.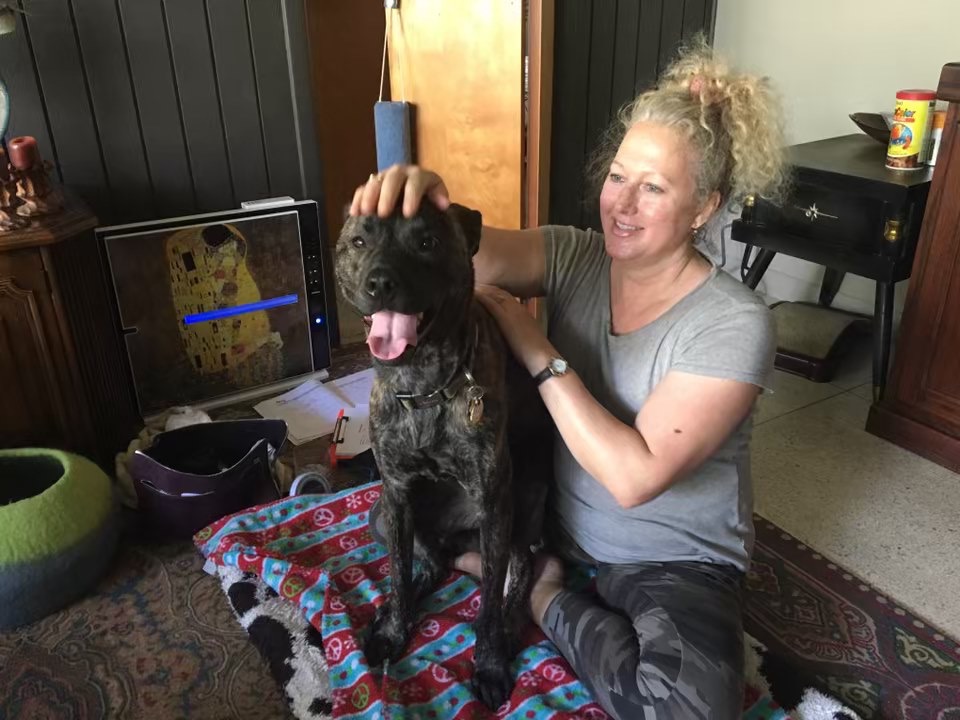 Life can be stressful, even in the very best of times. Massage and acupressure provide a calm and centered healing space. From Acute to chronic conditions, ranging from stress to gastrointestinal concerns to mobility, pain, and arthritis, bodywork allows for healing and balancing of the spirit, mind, and body. Bodywork is energy work. By moving energy we allow the dog to get the healing he wishes for. ♥

To schedule or for more information call or email today. 214-334-8517 or suzkarmah@aol.com. If you are interested in studying Canine, small animal or Equine therapies, click here for further information.