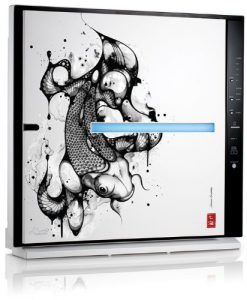 We live in a polluted world.  And many times, the air inside our homes is the worst to breath!
Below is a link to Dr Axe for more information, but unless you are very careful to use only organic and natural cleaning agents, and environmentally friendly and toxin free furnishings, the average home contains about 10 gallons of synthetic chemical products.
From cigarette smoke, to pesticides,  from paints to household cleansers, to candles and incense or other air fresheners –  all can distribute toxins throughout the home.
https://draxe.com/indoor-air-pollution-worse-than-outdoor/
We now have 6. I had 2 for several years and then bought 4 more after my Hippocrates training.  This model is the sleekest, plus the customization is great!  We have the fish, pictured, and also one with the Julius monkey cover.  The filters typically last 2 years and are also customizable.   I have owned some ugly air filtration systems in my day and am thankful now that I no longer feel the need to sacrifice style for health. Rabbit offers the Artists Series featuring images by Gustav Klimt, Katsushika Hokusai and original designs by Rabbit Air's creative team, to offer you a sophisticated answer to stale air.
I leave mine on auto so that they automatically adjust the fan speed high or low as needed to filter the air in the entire room as much as twice an hour.
The Minus A2 – SPA 780 filters as much as 815 square feet while the Minus A2 -SPA 700A, filters as much as 700 square feet.  The unit stands on its own base or you can opt to wall mount it.
I totally dig the mood light, the LED lighting may be turned on so that it provides a soft mellow glow of soothing colours.  It automatically sense when it is dark or 'nap time' so I like to read in bed, then turn the light out for bed, watch the colours for a bit while I get myself organized and poof, it goes out a few moments later.  Perfect!
There are six stages of air purification and you can customize, as noted earlier, for Toxin absorbing, Pet allergy, odor, germs.  Many people who keep birds choose this filtration system since birds are very sensitive to bad air.
But it is also sleek and gorgeous!  We have people over and they comment on the filters, because they present themselves as art.
Driving can be very dirty business, as can sitting in a dusty cubicle.  Working from home is such blessing but I recently found myself driving into the office far more than I planned and coughing due to the detritus level. I wanted something for the car and the office that was easily transportable, nice looking and with Hepa filtration.  The Tecool
 air purifier
 USB plugs into your car or laptop for easy peasy transition and comes in a soft white or black.   A coworker was chronically coughing one morning so I unplugged my purifier and plugged it into her laptop so she could breathe some fresh air.  Within minutes her coughing grew quieter and then stopped all together.  For $32.99 it's a great deal.
If you are saddled with some lung congestion, such as from construction or just general pollution, while you work on clearing the air, I recommend
Hyland Phosphorus
as a natural homeopathic aid for cough or chest congestion. It works fast too!  I am never without this or
Fenu-Thyme capsules
which have two fabulous lung healing herbs to boost your lung's ability to clear itself out.
Folks, as we age, the lungs take a real beating.  Support your lungs by cleaning your air, minimizing dirty environments and taking  natural supplements to support them.