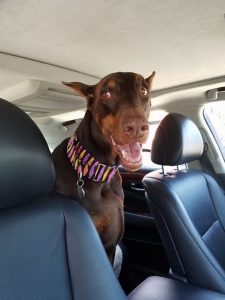 Happy Boy!
Rhett has suffered kidney damage since he was just a year old (2011). He has been on a high grade mostly raw diet and has no kidney issues in his line.  Rhett's Grand-dad passed away last year at 12 1/2 and he has some 14+ relatives so he comes from healthy stock.
His kidney trauma is due to bad greedy people,  egregious practices and misbegotten crap passed off to the consumer as something made in America but was actually produced using tainted meat from China.  Waggin Train and Canyon Ranch dog treats.   Read my Petfood Rant for more details and check out this link too: https://www.dogfoodadvisor.com/dog-food-recall/waggin-train-chicken-jerky-treats-recall.
Putting my steam aside a moment, as you can see, Hieronymus Rhett Thomas O'Brien Puppy is a very happy boy.  I am a natural, plant-based, alternative kinda girl.  As I have been treating Rhett with help from various others, since 2011.  I stopped his tainted treats in 2014 when I finally connected the dots, because he finally got massively sick immediately after eating the treats, wouldn't stop vomiting, so it was obvious.   They say there is no cure for kidneys, that they progressively scar and stop doing their job and that we only notice the signs when the kidneys are down to their last 20% or so of function.  I really like to think of the body as a miracle machine, capable of vast healing given the time, herbs and pure living.   But at the very least, what I know for sure is that eating clean, getting exercise and lots of love couple with the right herbs and daily detoxing, can all only help prolong your dogs quality of life.
Foods and Herbs – DETOX  The Lifestyle –  Everyone that looks at Rhett exclaims what a healthy handsome Doberman he is.  While he has lost 18lbs of muscle over the years, I believe one of the reasons he looks so stunning is the food and herbs I give him and it's also what I don't give him too.  First I read Martin Goldstein's Book, The Nature of Animal Healing. I love this book as a reference and a great natural guide. It is a wonderful balance between allopathic and homeopathic modalities.  KIBBLE –  I read all ingredients and avoid most kibble which is done via an extrusion process and is just not a good thing to feed your dog or kitty. I go for the boutique and healthier ones, where the company makes it themselves, using low heat and then I only provide as a snack food.  Just something for my kitties and Rhett to snack on in between meals.  I tend to mix up the kibble, but right now I am feeding Ami Cat, vegan for our kitties and Halo Vegan Garden Medley for our Doberboy.  The reasoning against kibble as an animals only fare is similar to when we high heat cook our food.  Whenever anything is cooked above 118, it loses vitality, vitamins and moisture and enzymes.  Basically, the food is now dead and you may notice labels that state 'vitamins and minerals added etc' and that would be why because we have trashed the value in that food.  When you eat only dry food, your body takes moisture to break it down and it is very dehydrating.  For example, a cat typically doesn't drink a ton of water but on kibble only, your cat will drink a lot more in an attempt to hydrate.
You can provide  Black Walnut, for worms, including heartworm.  I buy the capsules and break one up in his food.  Rhett is 100 lbs currently.  So I dose him like a human.  So if you adopt this, I believe the book provides guidance there too, but dose accordingly which may mean half a capsule or a 1/4th monthly.  Rhett had been given all his typical puppy shots up to 8 months old.  After that, all he has ever had is a fractional rabies dose (because it is the law) and one Parvo shot because parvo was prevalent in our area.  There is mercury and other poisons in our vaccines…I have no freaking clue why but I shun them.  Also, many are not vegan.  Think about it….do YOU personally get shots every year whether you need it or not?  The last time I had a shot was as a child when I had no say so.   Because we reside in an area (Dallas) that is pretty much open season with Mosquitos all year long, I give keep Rhett on Pawhealer Empiracle Heartworm Support, just a 1/4 tsp daily 7 days on, 7 days off, and every quarter I give Rhett a black walnut capsule to cleanse.  If we get any semblance of a solid winter that lasts a week or longer, I stop the heartworm prevention during that time just to give the boy a break and pick it back up as the weather warms up.  With his kidneys compromised, I try to minimize any conceivable toxin that he could come into contact with, from air pollution, impure water, floor cleaners and polishes, laundry detergent, dog shampoo and conditioner, flea control.  I believe it is due to all of this management, that Rhett has not once needed emergency care (yet) for his kidney concern.  We would not have known he had one except by his bloodwork.
One of the treatments I use, which I mix in with Rhett's food, is Dr Harveys Kidney Health.  For years, I have been a fan of Chinese healing herbs and modalities and have taken Astralagus for some years now as well as medicinal mushrooms, so it's great seeing these magical compounds in this whole food supplement, along with Rehmannia Root and other herbs, all organic by the way, to help reduce inflammation (a precursor to cancer and other ills) strengthen the immune system, the kidneys, and adrenals, and detoxify the blood and system.   See my petfood blog, but I also, primarily, feel Dr Harveys mix-ins, such as their Canine Health and veg-to-bowl when I want to create a meal with either no grains or when I want to add my own, such as brown rice.  What I love about Dr. Harveys, other than the man will get on the phone with you, (not kidding!)  is that with kidney issues, you have to reduce the protein.  With a healthy, organic mix in, it makes the meal prep very easy.  You control the protein source and amount, mix that into the bowl that you have hydrated following the easy directions en voila, a meal is served.  I make up batches at a time to last a couple or three days.  Dr. Harveys makes food for kitty too.  ♥
Another tool in my toolkit is Pawhealer Petigreens, which is all organic greens and digestives that help detox the system and are great for kitty as well.  Coming from my Hippocrates Health Institute training, I am gladdened to see wheatgrass, barley grass, loads of chlorophyll, which is one molecule off from our blood cells.  It is a powerhouse detoxifier!  I also have everybody in the house on Digestive Enzymes and probiotics.  For the furkids, I recommend  Dr. Mercola Digestive Enzymes.
Purify your water.  (Read my blog on water purification) There is plastics and pharmaceutical drugs in all municipal water supplies and no drop is pristine these days.  Get a Zero water pitcher or whole house system…see my blog, but please purify all of your water and if you have pets, they deserve fresh pure water too!  I add minerals back, using either mineral sticks or liquid trace minerals into the water once purified.  You need them for the bones and teeth.  Teeth and mouth are another dead giveaways to a pup suffering from Kidney Disease.  Rhett has never had to have a vet clean his teeth.  Rhett will be 8 April 17th 2018. I have been using brushless toothpaste treats by Ark Naturals and Ark Naturals Plaque Zapper, little fizzy packets you add to the water bowl since he was a young boy.  I do periodically brush, but he really doesn't like it and doesn't have a lot of 'stay still' patience for me to work as long as I need to. I also use a natural tooth gel, that I can apply weekly to his canines and back molars area, 2 drops front, back on each side.
For household cleaners, check out my other blog which is geared towards Mid Century Modern design, but I review and talk about the best and safest ways to clean your home, top to bottom in a safer way.
https://mcmhomeanddecor.com/hardwood-floors-how-to-clean-and-maintain-them
Read all labels and be mindful of your protein source.  Think about what kidneys and livers do…they purify the system.  So you really don't want to be feeding your kidney deficient pup liver or kidneys because they will have toxins that could overload your pup's system that is already struggling to detox.
Variety!  Now, I believe it is important to provide variety at mealtime.  It's healthier and there is so much we can benefit by adding different plants, legumes etc into the diet.  That stated I recommend a couple of books – Feed Your Best Friend Better by Rick Woodford and Dr. Pitcairn's Guide To Natural Health For Dogs & Cats which is a plethora of information as well as a few recipes.  I realize everyone is busy and my husband jokes I make time to fix something from scratch for the dog but not for us, but even if you do this on the odd week-end, and Dr. Harveys mix-ins the rest of the time, varying your oils and protein sources, then you are adding some variety to your pup's diet.
With Kidney Disease, we concern ourselves primarily with the BUN, the Creatine and Phosphorus.  When the Phos gets out of whack, we are really going downhill.  A friend tipped me to using a phos binder, such as RX Vitamins Phos-Bind.  While Rhett's phos values are normal, I am adding a binder as a preventive measure.
IF you are one of the many who are suffering due to bad pet food, or an unknown cause, one way you can help others and detox emotionally is to simply  share your story and I encourage you to post comments below.  It helps to get it out and, also, if it is due to a bad product, it helps make others aware.
I vote with my wallet. So, this means I boycott the maker of the bad treats and Petco because they are equally culpable, having watched me for years as I checked out, spending between $300-$500 monthly at their store, with them smiling back at me and Rhett, letting me buy these tainted meat treats which they already knew the story on.  They smiled and said not one word of warning.  And yes, I hate them for that. But I also despise them for continuing to keep this poison on their shelves knowing full well what it was doing and would continue to do to our loved ones.
How did we get so freaking greedy that it actually makes sense to us to cut so many corners, turn a blind eye and begin ageing out and killing off the client base?  How, exactly, because I really want to know this answer, does that model actually work, long-term, as a profitable business model?  Who continues to shop with you after something like this?  It's insulting and cruel is what this is.
For you guys suffering watching your fur kids suffer, try to stay positive and try these meals and treatments and just love them while you have them.  In the end, we are all spirit.  Mine will be haunting bad mojo greed corporations such as Monsanto and Factory Farms.
Peace.