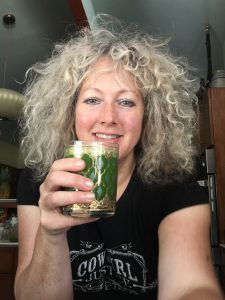 As an alternative health consultant, I assist people with re-capturing vibrant health!  Whether it is walking down grocery aisles with you, helping you read labels or coaching on kitchen equipment set up for the healthiest and easiest ways toward a plant-based diet, this is my jam.  I advocate minimally processed foods, going completely organic, with an emphasis on raw and sprouted foods and proudly sell 3 great toxin-free lines for skin, body and home care: www.bioceutica.com/puretemple
www.EssanteOrganics.com/Puretemple
http://www.miessence.com/puretemple/en/category/1/skincare
My training is through the Hippocrates Health Institute.  As a Raw Food advocate, let me help you with, vegan cooking, food combining, how to read labels, shop at the supermarket and set up your kitchen for a successful transition to or towards a plant-based diet.
I have researched the best ways to grow sprouts, the best juicers, blenders, food processors, which can all assist you in incorporating raw foods into your daily living.
SCHEDULE A PLANT BASED LIFESTYLE CONSULTATION – Email me at suzkarmah@aol.com.  You will receive a short intake form so we can see where you are now with your lifestyle and what your goals are so that we can tailor the best course for you!
My fee:  The first consultation is $150.00 and includes up to 2 hours of my time.  Each additional hour is $75.00/hr.
Most of us were taught to eat meat, cook our food, and take pills for what ails us.  Not everyone knows how to really shop for life-giving, enzyme rich food at the supermarket.  As we change our eating styles we not only help ourselves, but help the planet.  The SAD, (Standard American Diet)  that most of us are on, is NOT planet sustainable.  We are killing ourselves and our fellow earthings.  As we learn to eat better, we vote with our wallet and we change the world, one meal at a time.
MIESSENCE ORGANIC SKINCARE & FACIALS – Email or Over the phone skin consultations and guidance is free.  For Skincare sales, you may click on the green writing above to go into the website and shop.  I am here to help with any particular product questions you have or if you would like some guidance.
For local Dallas area folks; You may request an Organic SPA Facial Party or schedule a Client Organic SPA Facial.
A SPA Facial Party –  would be hosted by you, at your home for your friends and colleagues interested in an introduction to our organic skincare.   I provide my time and all materials for the facials free of charge.
For the parties, using the yummy Miessence products, I walk everyone through applications and what each product does for you.  At the end of the event, interested parties may go to my website to order.   I rely on the integrity of these pure and potent products, to do the selling for me.
Client Organic SPA Facial – Your scheduled appointment takes about an hour, cost is $65.00.  This is a deep facial using all organic Miessence products for an amazing SPA quality facial.  This is a great way to get glowing skin and learn about the products too.  Again, many folks want to make a purchase afterward and are welcome to my website to browse after the facial session is completed.  🙂
MIESSENCE BUSINESS OPPORTUNITY
On the Website there is a link to become a Miessence Independent Rep!  Ask me for details.
For any questions you may have, I may be reached at: suzkarmah@aol.com
Thank you for your time and interest in my blog, products and living your best, healthiest life!  🙂